Château de Tiregand 2020 75cl
13,90€
the bottles 75cl
(box of 6 bottles 83,40€)
this wine is produced only in the best years.
It comes from a selection of parcels on the driest soils of our vineyard.
There, the grapes are smaller, with concentrated aromas.
Vinified separately, they give birth to a full, fleshy wine, which will be aged for 18 months in barrels.
Concentration, elegance and finesse characterize this great wine from PÉCHARMANT. It can be kept for 15 years in a good cellar.
Within the limit of available stocks
DELIVERY ONLY IN FRANCE METROPOLITAN
POSTAGE PAID FROM 24 BOTTLES
Description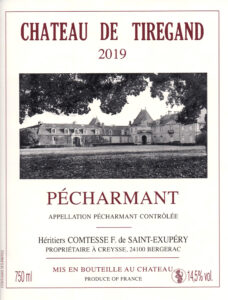 Chateau de Tiregand 2015
Médaille de Bronze Concours Général Agricole Paris 2017
Médaille d'Argent Concours de Bordeaux Vins d'Aquitaine 2017
Chateau de Tiregand 2016
Médaille d'Argent Concours de Bordeaux Vins d'Aquitaine 2018
Proprietors: Family PIAT
Director: Christophe PIAT
Vineyard Director: Antonin LEGROS
Oenologist: Florent NIAUTOU
Additional information
Production

38 hectolitres per hectare – amounting, after due selection of the vinifications, to 12,000 bottles. This Pécharmant is a blend of Merlot (60%), Cabernet Sauvignon (35%) and Cabernet Franc (5%). It is produced from vines planted in the traditional density, to highlight the consequent great richness of the grapes.

The quality of this wine led the family shareholders to invest in closely planted vines (5,800 plants per hectare), so as to show the qualitative potential of all the Tiregand vineyards.

Vinification

is carried out in open vats, with punching of the cap and scrupulous temperature control, followed by maceration of the wine on its crust for a period of about 25 days. The wines are then transferred into barrels before the malolactic fermentation takes place.