AOC WHITE WINE
Bergerac blanc sec
Production : This dry white wine is the produce of 1.45 hectares of Sauvignon vines and 0.2 ha of Semilion planted on the hillside nearby Bergerac city.
Grape varieties: The sandy and gravely Perigord soil gives to the sauvignon grapes their expression. The sauvignon lends its wild aroma, particular to this variety, and expressive of the local soil.
Cultivation: With the knowledge that ripe healthy grapes are the most luscious, we help the ripeness by short pruning and controlling the yield (green harvest).
Vinification: From the moment when we harvest, our aim is to extract and preserve the flavours of the sauvignon.. Before fermentation, we leave the grapes to macerate in their skin, protected by carbonic gas. The subtances extracted from the skin give the wine its richness. This fermentation lasts about 12 hours.
Wine making: after pressing, the grape juice is clarified by cold decanting (2° C). Then the clear juice is fermented with carefully selected yeasts. Fermentation lasts for 10 days. Then the wine is matured on fine lees for 2 months.

DELIVERIES
DELIVERIES ONLY IN METROPOLITAN FRANCE. NO DELIVERY IN CORSICA OR OTHERS ISLANDS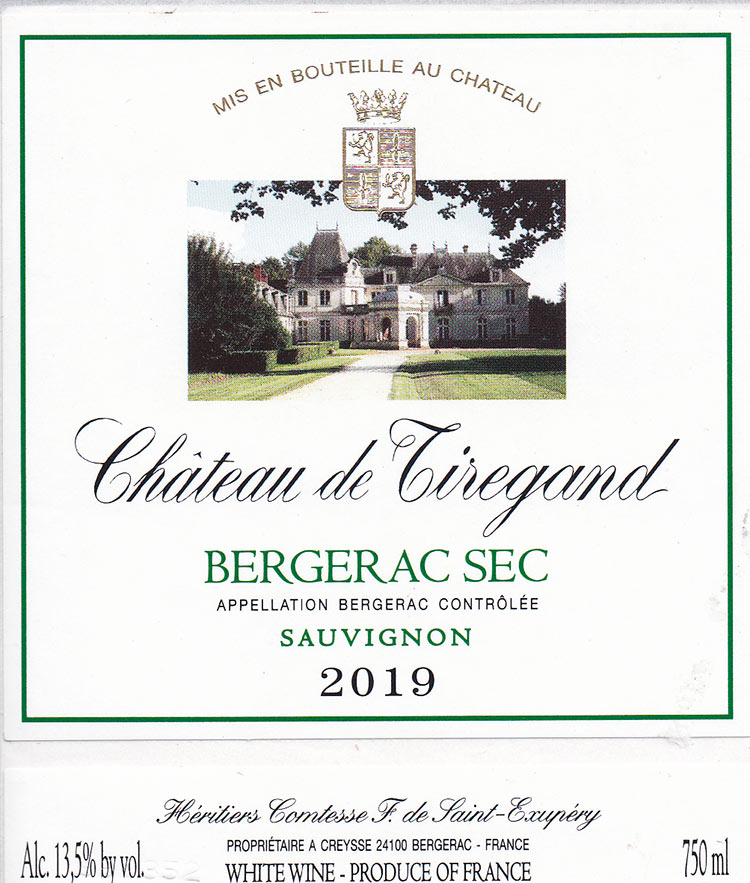 Characteristics: Freshness and the Sauvignon aroma typify this white wine from the Château de Tiregand. It should be drunk cool (10 to 12 deg. C.), as an apéritif with friends or to accompany fish or summer salads.
Keeping: 2 years
Sizes available: In bottles (cartons of 6 or 12).
Presentation: Gift boxes in wooden cases, with silk-screen printing.
Proprietors: Christophe et Côme PIAT
Director: Christophe PIAT
Vineyard Director: Antonin LEGROS
Oenologist: Florent Niautou
1 to 3 boxes

6,00 €

4 boxes and more

free

POSTAGE PAID FROM 24 BOTTLES

Delivery in POINT RELAIS COLIS only