The grape varieties
Château de Tiregand
The richness of the Pécharmant wines comes from the balance in blending at least three of the following grape varieties, when reaching perfect ripeness: Merlot, Cabernet Franc, Cabernet Sauvignon and Malbec.
The Château de Tiregand vineyards grow them in these proportions: Merlot, 54%; Cabernet Sauvignon, 23%; Cabernet Franc, 18%; and Malbec, 5%. Each of them, harvested at the peak of its maturity, contributes the different qualities necessary for the production of great wines, in the best traditions of the wines of Bordeaux and Aquitaine.
Suppleness and roundness from the Merlot, body and bouquet from the Cabernet Franc, fruitiness and aroma from the Cabernet Sauvignon, and a velvety touch from the Malbec.
merlot 54%
cabernet-sauvignon 23%
cabernet-franc 18%
malbec 5%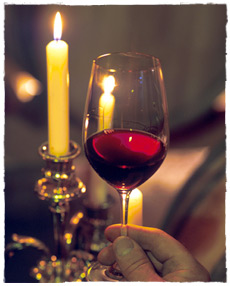 The wines produced from blending them, full and rich in tannin, give clear indications of their quality: a beautiful rich, dark colour; elegant and very delicate aromas. As they age, they become more supple and their bouquet fills out. They can be drunk pleasurably from their third year, but generally reach their peak around 6-7 years of age. They are wines for laying down and can last for 10 to 15 years.
Opened 3-4 hours before being served (at 17 deg.), they go marvellously well with game, roast meats, duck, and cheese.
The Château de Tiregand vineyards also have 1,20 hectares growing white grape varieties – 70% Sauvignon and 30% Sémillon – enabling the estate to produce a very nice Bergerac Blanc Sec, with notes of lemon, almonds and peaches. Delicate and elegant, this aromatic wine (served at 10-12 deg.) can be drunk as an apéritif or with fish, shellfish, and salads.
sauvignon 90%
sémillon 10%

All the richness of Pécharmant wines comes from the balance of the blend
of at least three of the following varieties, which have reached perfect maturity:
merlot, cabernet- franc, cabernet-sauvignon, malbec.
At the Château de Tiregand, we assemble the 4 grape varieties in order to enjoy the aromatic palette of each one of them on the terroir of Pécharmant.