Production: Situated on the Pécharmant slopes, the vines cover 36.5 hectares and, on average, are 25 years old. The yield from them is 42 hectolitres per hectare – which, after due selection, amounts to 160,000 bottles. This low yield allows fuller expression for the special characteristics of the Pécharmant soil, which consists of sand, gravel and a marked amount of iron in the sub-soil (- 1.80 m).
Grape varieties: This Pécharmant is a blend of Merlot (54%), Cabernet Sauvignon (23%), Cabernet Franc (18%) and Malbec (5%). The vines are planted at a density of at least 4,000 plants per hectare, which ensures that they ripen earlier and that the grapes are richer.
Cultivation: Ripe and healthy grapes are the tastiest. We prefer, therefore, that they reach maturity after short pruning, careful control of the yield from each vineyard section (disbudding and a "green" harvest – reducing the number of grape bunches), and thinning out the leaves on each side of the row.
Harvesting: Determining the maturity of each grape variety by tasting tests and the colour and maturity of the seeds, then machine-picking. Checking the grapes on the sorting table.
Vinification: Fermentation in vats lasts 8 to 10 days, with is carried out in open vats, with careful temperature control, followed by maceration of the wine "on its crust" for a period of about 10 to 15 days, depending on the results of daily tasting tests. Overall, then, vinification takes 20 to 25 days.
Maturing: About 12 months in oak barrels (of which 20% have been used once before).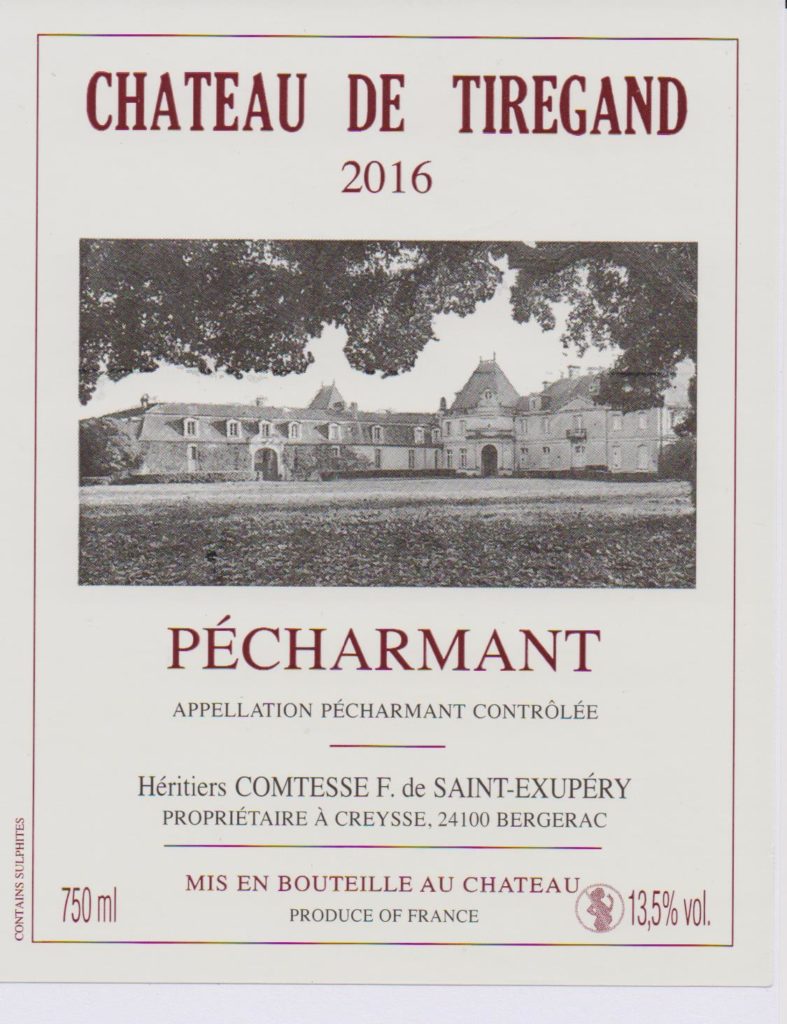 Bottling: By our own equipment at the Château de Tiregand. The bottles are then stocked in our air-conditioned chai (winery) to begin their ageing.
Tasting notes: Cherry-red in colour, with hints of violet, this wine has a complex "nose" of fruit (fresh plums, black cherries) and spices (pepper and coriander), with an overall sprinkling of musk and light toast. The tannins, amply present but well covered, confirm it as a wine for long keeping.
Keeping: Should reach its peak at 7-8 years, at the latest.
Sizes available: In half-bottles, bottles and magnums.
Presentation: Flat cartons of 6 or 12 bottles; wooden
Proprietors: Heirs of the Comtesse F. de SAINT-EXUPERY
Director: François-Xavier de SAINT-EXUPERY
Vineyard Director: Pascal ZANUTO
Oenologist: Jean-Marc DOURNEL & Stéphane SEURIN
Chateau de Tiregand Cuvée Grand Millésime 2016
Médaille d'or Concour des grands vins à Macon 2016
Deux étoiles Guide Hachette 2020
Chateau de Tiregand 2016
Médaille d'Argent Concours de Bordeaux Vins d'Aquitaine 2018
Pas de production en 2017, gel de printemps
Récolte détruite à 100%
Vente en primeur du millésime 2019

From april 15 to May 30 2020
Qu'est-ce qu'une vente en primeur ?
Elle consiste à acheter le dernier millésime du Château de Tiregand encore au stade de l'élevage en barriques
et à recevoir les bouteilles de ce millésime un an après (soit en octobre de l'année suivante 2020).
Vous bénéficiez alors d'une remise d'environ 10 % sur le prix de vente.