Two different programmes for visits, with tastings, are provided for groups of 10 people upwards (with a maximum of 50).
Programme 1 : The Château de Tiregand, history of a 17th-century wine estate: the different exteriors of the château, a walk on the terrace to see the magnificent view over the valley, then a return to the winery to discover the alchemy of ageing wine in barrels.
Programme 2 : The Château de Tiregand, from the vine to the wine, the secrets of Pécharmant: an introduction to the Pécharmant appellation and other Bergerac wines, a walk among our vines, then a visit to the winery to discuss the blending of the grape varieties. Discover the secrets of ageing wine in barrels and the arts of the cellar.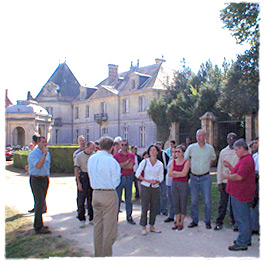 Visits solely on reservation
in French or English, as requested.
Throughout the year
from Monday to Saturday
within the framework
of our opening hours,
except Sundays
and public holidays
5,50 euros a head
Duration: 1 hour
Request of reservation for the visits of groups

Héritiers Comtesse F. de Saint-Exupéry
Château de Tiregand