VIN ROUGE AOC PECHARMANT
Clos Montalbanie
RED WINE AOC PECHARMANT
Clos Montalbanie
Production: 45 hectolitres per hectare. This Pécharmant wine is grown from young vines (less than 10 years old) in the Tiregand vineyard, plus part of the selection not retained in blending the first wine.
Grape varieties: A blend of Cabernet Franc (35%), Merlot (35%), Cabernet Sauvignon (20%) and Malbec (10%). Grown on tall vines since the frost of 1956, the vineyard has been progressively enriched so as to attain 4,000 plants per hectare. The grapes thus ripen earlier and are richer.
Cultivation: Ripe and healthy grapes are the most savoursome. So we prefer them to reach maturity after short pruning, careful control of the yield from each vineyard section (with a "green" harvest – reducing the number of grape bunches), and thinning out the leaves.
Harvesting: Determining the maturity of each grape variety by tasting tests and the colour and maturity of the seeds, then machine-picking.
Vinification: In vats for three weeks at a controlled temperature of 26 deg C., to make a fresh wine with scents of red fruits. Matured in vat; racking with aeration.
Bottling: Carried out at the Château de Tiregand, following the blending process, fining with whites of egg, and filtering. It takes place under inert gas on our own steam-cleaned, stainless steel bottling line.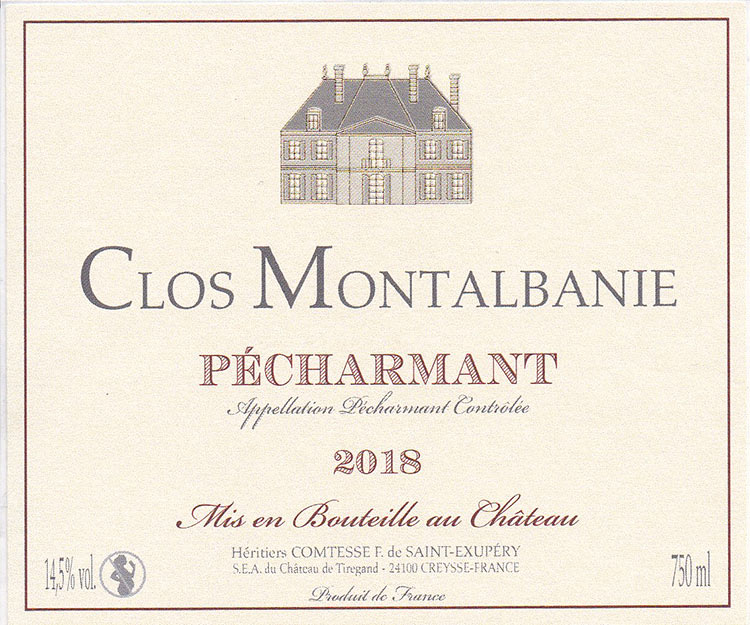 Characteristics: Round in the mouth, with supple tannins. Best drunk at a temperature of 17 deg., with red meats, game or cheese.
Keeping: At its peak after a maximum of 5-6 years.
Sizes available: In bottles (cartons of 6 and 12), or half-bottles (cartons of 24).
Presentation: Gift boxes in wooden cases, with silk-screen printing.
Proprietors: Heirs of the Comtesse F. de SAINT-EXUPERY
Director: François-Xavier de SAINT-EXUPERY
Vineyard Director: Pascal ZANUTO
Oenologist: Jean-Marc DOURNEL & Stéphane SEURIN

1 to 3 boxes

6,00 €

4 boxes and more

free

POSTAGE PAID FROM 24 BOTTLES

Delivery in POINT RELAIS COLIS only