A.O.C Pécharmant
Château de Tiregand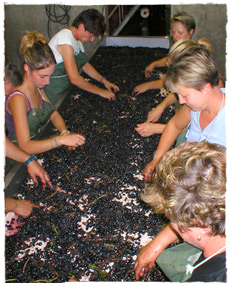 The Pécharmant vineyards, on the right bank of the Dordogne, north and north-east of Bergerac, are the oldest in the Bergeracois region. The name derives from a linking of two words, Pech and Armand – pech being a local word for a small hill, and Armand the first name of the man who owned this territory prior to the 13th century..
Spread over four communes (Creysse, Bergerac, Lembras and Saint-Sauveur), the vineyards mostly lie on south-facing slopes, thus benefiting from much more sun.
he special feature of these vineyards stems from their "Périgord sand and gravel" soil, in which clay and iron were gradually leached into the sub-soil. This deep, impermeable layer, known as "tran", is what gives Pécharmant appellation wines their unique taste. It results in wines which are generous, full-bodied, well structured, and not reaching their peak until after ageing for 6-7 years.
Granted AOC status in 1946, the vineyards now cover 441 hectares, spread among 46 producers…. of whom 15 vinify their wines in co-operative cellars (accounting for 30 per cent of the total area) and 31 in their own wineries. Since 1992, the planting density has been fixed at a minimum of 4,000 vine plants per hectare.

The Château de Tiregand vineyards stretch over the Pécharmant slopes from Les Galinoux to La Montalbanie